Launched in 2019, the Intel Mac Pro is Apple's most expandable computer, with eight PCI Express slots and four Thunderbolt 3 ports in the standard configuration: two Thunderbolt ports on the top of the tower, and two ports on the Apple I/O card in back. To achieve maximum performance when multipathing to Pro Data, it's important to understand the differences between these ports' capabilities.
| | |
| --- | --- |
| | |
| Standard Mac Pro chassis, top view | Avoid using ports on top of the chassis. These ports are connected to an auxiliary southbridge inside the Mac Pro, and chained from the same Thunderbolt controller. As a result, they share less than a single Thunderbolt path's worth of PCI Express performance. |
| Rack-mounted Mac Pro chassis, front view | Note: On the rack-mounted chassis, these ports are located on the front of the chassis, below the vent holes. |
To provide maximum throughput, dual-path your connections to Pro Data using two cables, each on their own separate Thunderbolt bus. We will verify this using the macOS System Information utility:
Select About This Mac from the Apple  menu.
Click on the System Report… button in the Overview tab to open the System Information window.
In the window's sidebar, verify that the Hardware section is expanded to reveal Thunderbolt/USB4. Select this list item to reveal the Thunderbolt/USB4 Device Tree in the main content area.
Verify that for each Thunderbolt bus, only one Pro Data connection is shown.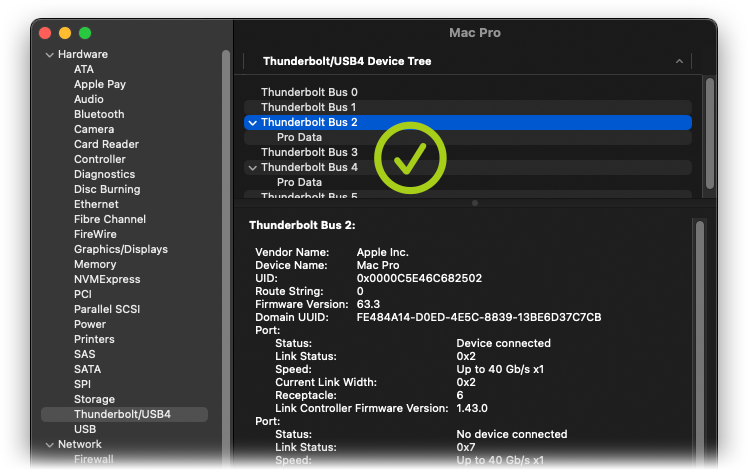 Two Pro Data connections are shown in an Intel Mac Pro System Information window, each properly on their own Thunderbolt bus.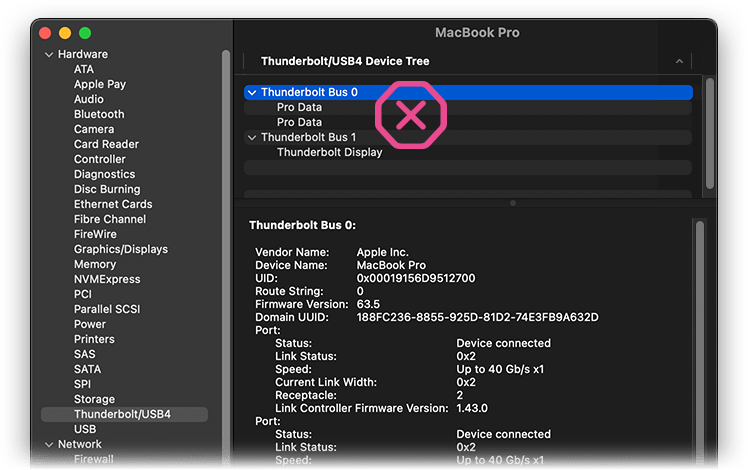 Two Pro Data connections are shown in an Intel MacBook Pro System Information window sharing the same Thunderbolt bus. To correct this, make sure that each Thunderbolt cable is connected to either side of an Intel MacBook Pro chassis.
Having correctly multipathed on the computer side, we can verify that multipathing is correct on Pro Data as well by launching the iodyne Utility in the Applications folder and navigating to its Status tab. Here, each of the two Thunderbolt connections from the earlier MacBook Pro example are shown connected to their own port pair on a single Pro Data.